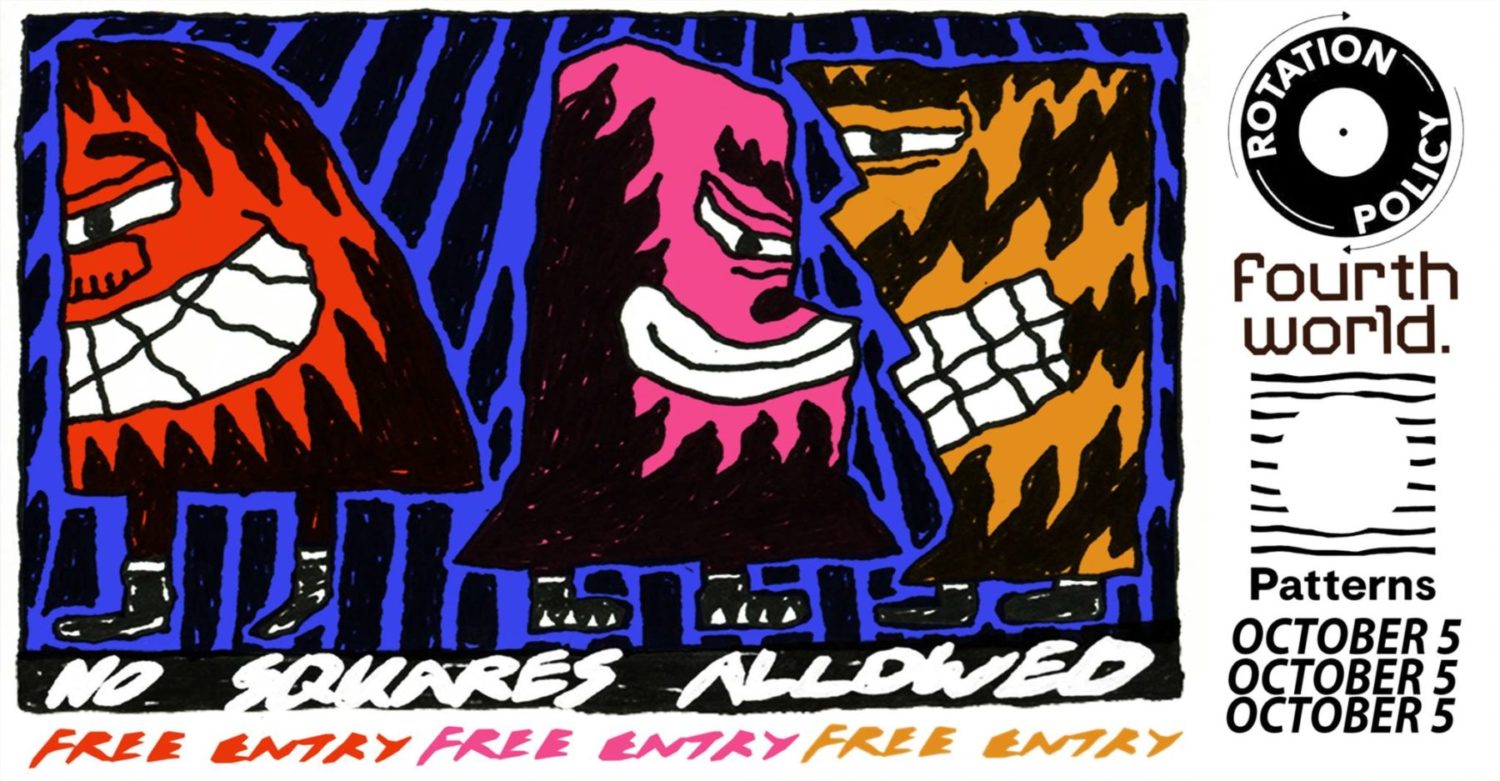 15 Jul
Leads. Briefs. Raves. Repeat. – A DJ's perspective on agency business development
Written by Nick Sadeghian, Account Manager at Team Ingenuity. 
---
When I first started DJing in 2013, I remember thinking I was so much cooler than everyone else.
But my exuberance and hope of a life on tour was short-lived. I very quickly realised that 1) nobody cares and 2) nearly everyone around me was also a DJ. Who'd have thought? Having thrown myself head-first into the world's most oversaturated market, it took me three years before I landed my first gig (in front of three people). As discouragement turned to dejection and my feelings of reverence towards the promoter-gods turned to resentment, I quickly realised that I wouldn't get booked unless I was the one controlling the line-up.
Enter Fourth World, the club night I founded with a pal two and a half years ago. We describe ourselves as playing 'underground sounds to step to from a roster of residents unrestricted by genre or convention'. Maybe we really are so much cooler than everyone else? The name itself is a product of inspiration and critical thinking, drawn from my self-imposed brief – "summing that sounds spacey." In the time that Fourth World has been running, the mild-to-moderate success we've enjoyed has exceeded our expectations tenfold.
Fourth World now holds a residency at one of the country's most revered underground dance clubs, has supported musical deities like Four Tet, and has been packing out venues across London for the last year. And the best part? Yours truly gets to headline (sometimes). Not bad for a failed DJ who started out performing to a crowd of three.
From outer space to the agency space
So, how does my experience growing a club night translate to the agency landscape? Good question.
Believe it or not, there are over 30,000 agencies in the UK, and most of them are shouting about the exact same thing. The result of this is endless duplication, the same trending buzzwords and a lack of depth and distinction, which hinders growth and limits potential.
Fear not. If you're attempting to spice up your lead generation strategies, then sometimes you need to look beyond the confines of your own industry.
Here are the four most compelling lessons I've learned from my foray into the world of DJing…
1. Differentiate yourself
It might sound cliché, but agencies need to work harder to differentiate themselves. Far too many agencies follow the same cookie cutter approach to new business and sales. When I first started DJing, I fell prey to the same trap. It's easy to look at the way things are done and simply follow suit. That might work to an extent – but it will limit your true potential.
It's not surprising that agencies struggle to differentiate themselves, especially when brand-side marketers receive at least 50+ generic new business emails every single day. There's a reason the 'delete' and 'junk' buttons exist, and if your new business campaigns aren't generating a response, then it's safe to say you've ended up in one of those two graveyards.
Instead, acknowledge that the market is saturated and think about what makes you unique. Ingenuity is constantly stressing the importance of insight. Prowl your prospect's website, LinkedIn, and even personal Twitter pages if they're public. Hyper-personalisation leads to new pitch requests and new clients.
2. Do something nobody else is doing
When it comes to driving new business for my clients, I'm always looking to create events and experiences that go against the grain. Look at what your competitors are doing and find ways to make yourself stand out. The BBH tagline rings true every time: "When the world zigs, zag."
For example, today's proliferation of smartphones and digital devices means most forms of communication have lost their personality, emotion and human touch. At Ingenuity, we've been experimenting with high-quality physical mailers that are sent to prospects in the post. We even use personal, handwritten letters. This shows clients that you're willing to take the time out of your day to do something unique for them. A little touch like this can make a big difference.
Essentially, you need to be willing to put in more effort than your competitors. Identify your top prospects, and then offer them a free audit to demonstrate the value you can add that no-one else can.
3. Be open to mutually beneficial partnerships
My ascent in the DJ world would not have been possible without the help and support of others. It's a mistake to think you can do things alone. When we were first starting out, we separated ourselves from our competitors by using our network of other club nights and inviting them down to play. It took a bit of extra effort (sorting out accommodation and travel, and nurturing our network in the first place), but ultimately it paid off tenfold by exposing us to huge audiences we had no place being in front of. It also helped us build clout by rubbing shoulders with other brands far above our weight class.
For one of my clients, we recently hosted a talk that we invited brands to as a means of broadening their network. To build the credibility of the event, we approached an agency five times the size of us and were very frank with them. It was simply a case of saying: "We're hosting this event to generate new business, we're paying for everything, and you basically have the opportunity to reap all the same benefits by giving a 30-minute talk."
4. Perception changes everything…channel your inner blowfish
If there's one thing I've learned over the years, it's that perception changes everything. When we first launched Fourth World, we were a tiny club night, desperately searching for people to show up. Over time, the sum of what we'd created became greater than the parts because of the way we angled our accomplishments. This gave us extra credibility when promoting ourselves as DJs, also helped by the fact that we had a successful "brand" behind us as well. Walter White's blowfish analogy springs to mind: "Think about it…Small in stature, not swift, not cunning…But the blowfish has a secret weapon, doesn't he?"
As an agency, think about how you frame case studies, thought leadership and events. Make sure you're putting the right spin on the most engaging data you have from your case studies. Position yourself as leaders in your field and add as much value up front as possible. That way, people will know you for much more than just the services you provide. If you can carve out a niche in the market and become well known in your industry, you'll help shift perceptions, open doors for yourself, and ultimately, win new clients.
So, if you're an agency considering how to turbocharge your success, start thinking like an up and coming DJ. The reputational benefits, the resulting invitations to pitch and new business offers that you receive will be music to your ears.
---
Looking for a DJ for your birthday, wedding, or retirement party? Drop me a line on nick_da_disco_diva@aol.com