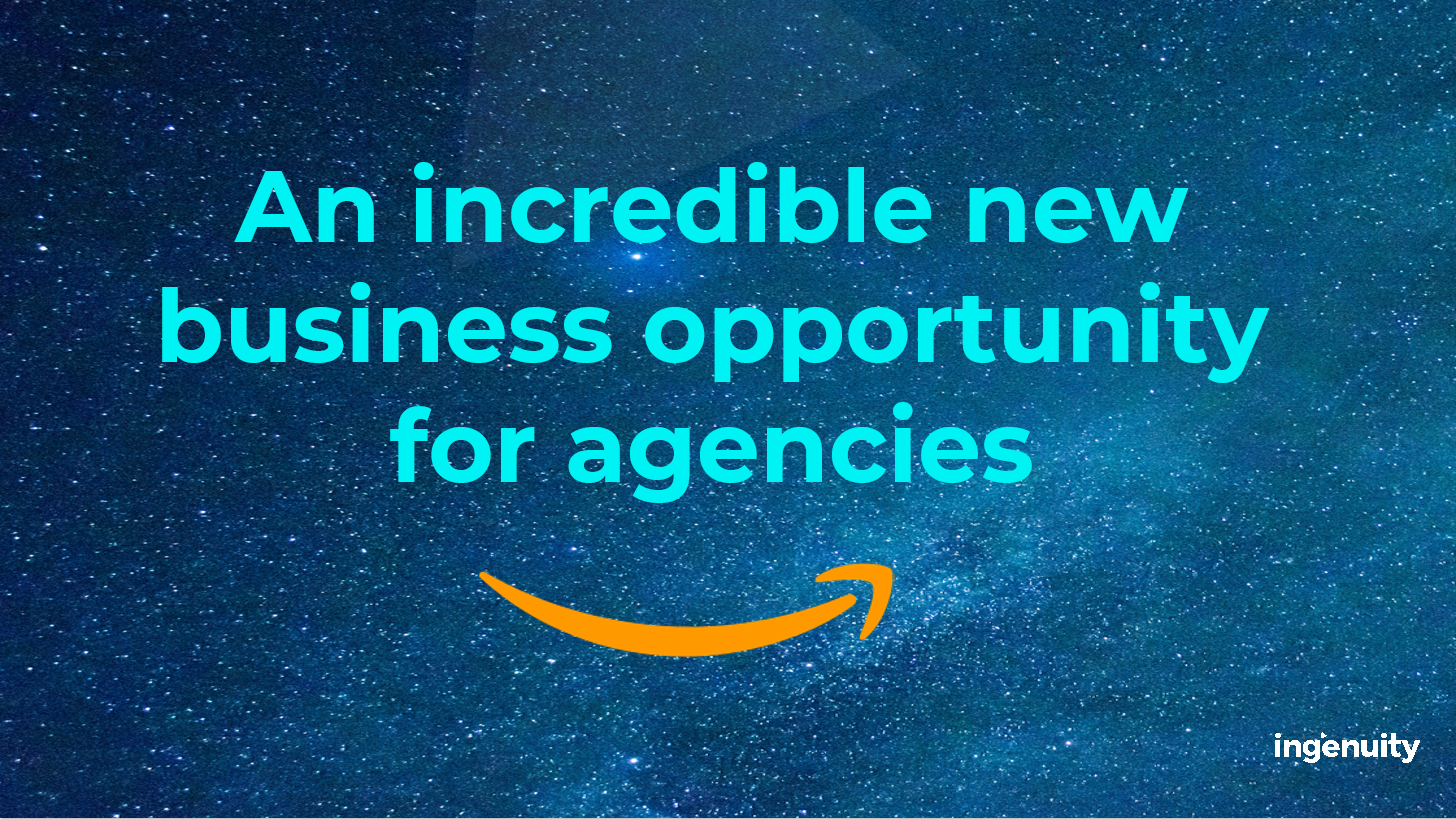 11 Oct
An incredible new business opportunity for agencies
In the UK last year, 33.5% of all online sales came through Amazon.
Currently in the US, nearly 50% of online sales are through Amazon.
If you stop and think for a moment, these figures are truly remarkable. And they're only going one way, and that's UP.
For brands, not focusing considerable energy on Amazon could be a deadly oversight. Ingenuity says the same goes for agencies and we mean this in the most positive way possible. These stats should be a call to action for agencies because the potential to help brands perform better on Amazon is massive.
The great news is that the UK market in this space is still very much up for grabs – there is very little true agency competition. There's limited guidance on best practice and we'd go as far as to say it's one of, if not, the biggest opportunity for the agency community since Google AdWords in the early 2000's and Facebook later in the decade.
Observing this trend and increasing demands from brands, Ingenuity decided to jump ahead of the curve and fire the starting gun on this competition. We recently ran an event where brands and agencies discussed how they could work together to succeed on Amazon.
We also decided to interview a number of brands on the subject and the outcomes of these conversations speak loud and clear. Removing the need for speculation, this direct insight from brand marketers confirmed the potential scope for agencies and Amazon.
Marketers talking about the importance of amazon and the opportunity for agencies to support them:
Marketers talking about how they use Amazon's marketing tools and what the future holds:
It's clear from the interviews that the latent opportunity for the agency community is big and it's time to sit up and take note.
Agencies should always be looking for new ways to help clients succeed in a competitive marketplace, not least because more often than not it has a positive impact on their own revenues. Amazon offers a rare chance to stand out and do exactly this…
If you are interested in talking to Ingenuity about how to grow your portfolio of Amazon focused clients, please get in touch – we can help you capitalise on this!