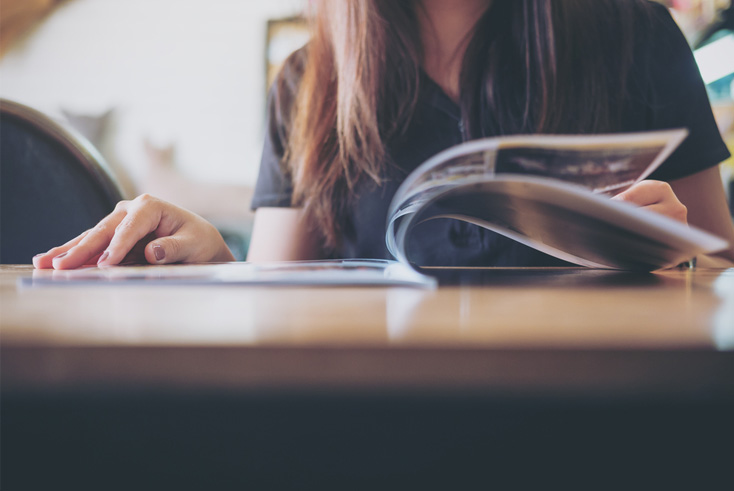 19 Nov
Don't believe the hype: print isn't dead – Edd Weller, Brand Partnerships Director
As seen in Mediatel.
---
In an increasingly fragmented media landscape, with audiences endlessly scrolling through social feeds and print publications regularly folding, it's easy to write off 'print' as a thing of the past. In terms of print media, it seems more and more new publications shut up shop or move to a digital-only offering each month.
But while Gay Star News and Marie Claire have become the latest casualties, The Face has made a triumphant return, with print a cornerstone in its offering.
In spite of the wide choice of channels, print advertising is still a pivotal way of capturing attention, as well as building trust. Just last year, Facebook launched a print ad campaign in Europe to inform users of their rights under GDPR, choosing print to increase its legitimacy and trustworthiness.
At the same time, Twitter's six second rule is stark proof of digital's reduced capacity to capture attention, with Gen-Z's attention spans lasting a mere 3.2 seconds.
Both publishers, as established as The New York Times and The Guardian, and those targeting niche audiences, are busy modifying their offering. From corporate subscriptions, to live events and experiences, and using social channels to leverage audiences, they're realigning to new business models, but keeping print at the heart of their operations.
The rise of digital and social
When I ran high-end fashion and art magazine WAR and Blinky, the very first national independent student magazine, back in 2008 advertisers pulled revenue as a first step to combat the recession. The closing of historical titles can be partly attributed to the attrition of incoming ad revenue.
With the rise of digital and social over the last decade, many established names have been removed from circulation, going instead for an online-only model – Marie Claire being the latest in a long line, which includes NME, ESPN and Seventeen.
With this move to a digital and social first model, what a lot of print titles never realised, is that they're fighting for attention. Time, in other words, is of the essence. Readers' ability to search has become a challenge – grabbing their attention is difficult, as is maintaining it.
One major flaw in publications, is their inability to create a positive user experience. Whether it's the annoying pop-ups and cookie notifications or incessant push messages to sign up for newsletters, smoothing out those flaws is paramount to creating a good first impression for online readers.
Beyond this, avoiding the "feed" can be a tough ordeal for publishers. Chasing online traffic can have detrimental results to the kind of content media titles push out, which in turn can affect the publication's ability to survive – even on a digital-only level.
The Face, which relaunched this year, has taken a strong stand against filling the feed, through creating a "creative council". This will guide editorial decisions and even bring their own contacts into the fold. The magazine aims to create content that matters to its audience.
Diversifying portfolios
It goes without saying that surviving in the digital era is a tough task for publications, but we need to acknowledge that print isn't dead. It's simply one of many touchpoints publications now have with their audience. Where the glossy magazine acted as a bible in days of old, now publications have to evolve and curate an ecosystem of different channels to help further engage with their audience.
From video and livestreaming to audio and branded content, they have to tap into a myriad of different ways to reach their targeted audience, all of which ultimately serve to boost their print versions and vice versa – essentially creating multiple revenue streams that correspond both to where the audience is and where brands want to be.
A key issue is that many media titles do not have the right talent in-house to develop brand relationships or sell their offering to brands. At Ingenuity, we understand the crux of creating partnerships that work. In this instance, publishers need direct relationships with brands and a network of media buyers.
It might be that some brands are keen to appear in print to boost credibility; others might be after broadening their appeal to a customer base they haven't approached before – in which case digital would be the go-to.
A tailored approach works much better, but it's important to remember that an umbrella concept that is fed through different channels, according to the channel's specification, is the way forward. Think 'Conde Nast for Brands' or 'Hearst Live.' These media titans have created an ecosystem that brands can tap into as an extension of their own brands.
All in all, nothing beats the physical act of holding a print publication and turning the pages. Print is much better placed to form habits around and has a much bigger impact on the reader. The trick is in not seeing print as a separate strand, but as a part of a living, breathing overall brand that spans multiple channels.
How you go about creating your workflow and content should be based on precisely that, which brands can be brought in for which parts of the overall ecosystem and how to create meaningful experiences for the readers.
---
At Ingenuity we understand the wider agency and brand relationship. With insights gained from years of experience and having worked with the best-of-the-best on both sides of the brand-agency relationship, we can help facilitate viable partnerships that last. If you'd like to learn more from our insights or want to gain a clearer view of the agency-brand ecosystem, contact Duncan on newbusiness@ingenuitylondon.com for more information.