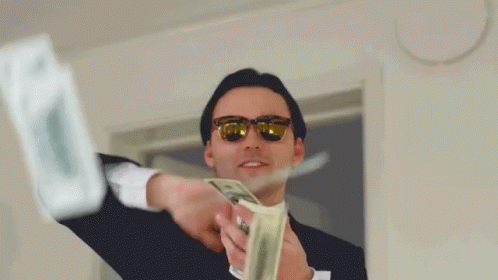 16 Oct
Is the end of cash nigh?
Written by Frances Clark, Trends Executive. 
Cash is no longer king. Electronic banking, the digital economy, and now coronavirus have paved the way to an increasingly cashless society. The prospect of going fully cashless stirs up a heated debate amongst business leaders and consumers alike, calling into question matters of society, surveillance and even psychology. A cashless society seems inevitable…but it's not as simple as it sounds.
Banking has transformed over the last decade. Amongst other major shifts, a digitally native generation has come of age and FS disruptors have accelerated tech developments for the entire industry.  Digital payments have become easy and normal, while cash payments have tumbled from 64% of transactions down to a mere 34%.
A cashless revolution comes with certain dangers. Privacy could be compromised. Every transaction requires a third-party intermediary, which makes things more convenient, but decreases users' privacy and safety. A fully cashless system would give banks, companies and governments access to the most intimate details of our lives.
Another worry is that those without bank accounts could be at a further disadvantage, especially the more vulnerable in society. If the UK were to become fully cashless, the homeless would be hit hard, as financial exclusion is among one of the factors that makes it especially difficult for a homeless person to afford formal accommodation and food. Likewise, many charities that support the homeless and other vulnerable members of society, don't have the same resources available to them as a digital agency or tech company. According to a recent report, a cashless society could lead to over £5bn less for charities, as currently over half of donations made with cash. This decline would have a detrimental impact on vulnerable members of society.
Similarly, for the older generation who often depend on cash, this new-found dominance could present a struggle. This group can rely on others to do their grocery shopping, which often requires cash payment for services. Additionally, this community tends to be less alert to the 'red flags' of scams that come with online banking and debit transactions. In a recent statement, Sarah John, the Bank of England's chief cashier, said: "Although its use is declining, many people, including vulnerable groups, still prefer to use cash. It is important that everybody has a choice about how they make payments".
On top of this, there are also the psychological implications. According to a report taken from the Huffington Post, contactless payments can encourage spending, making it harder to budget and plan, as a payment can be taken while a user is offline, meaning a delay in payment and the temptation to overspend.
So, what are the pros? The pandemic has pushed hygiene up everyone's agenda and therefore cleanliness is key. It is suggested that the virus can live on paper money and coins for up to two days and is a source of possible virus transmission, making digital transactions the cleanest and safest payment method.
Then there is also the prospect of helping eliminate the shadow economy. Cash payments are the principle enabler of the shadow economy and a key factor in VAT avoidance. A cashless system would clamp down on tax fraud and help prevent financial corruption.
Most importantly, a failure to go cashless limits innovation in the fintech sector. The fintech industry is there to build better financial services for the consumer and this is a lot more likely in a cashless society.
The opportunities for brands and agencies
 There are many benefits to brands going cashless. It improves hygiene by minimising contact, enabling businesses to protect both staff and consumers. Further benefits include fewer queues, faster transactions and an increase in customers by offering a variety of payment options. Likewise, an enriched digital payments industry means further opportunities for partnerships, with brands looking to implement a digital payment service. Subsequently, as millennials are more familiar with alternative payments, switching to cashless could help businesses attract younger customers.
Opportunities for agencies lie with up and comers within the cashless space. As the world moves online, Fintech start-ups and Apps will be using the opportunity to target different markets and will be looking for new ways to gain exposure. Moreover, the coronavirus has driven a staggering 72% rise in the use of fintech apps in Europe, and apps such as Plum and Lannister are profiting massively, and agencies will be able to jump on the back of this. Conversely, financial service providers and big banks will also be looking to up ad spend to compete with the army of fintech start-ups.
Overall, the possibility of a cashless society remains somewhat unclear. While it is inevitable that electronic money will become the dominant form of payment, it is unlikely that society will become completely cashless. There are just too many issues surrounding a fully cashless system. COVID has hit society hard, a fully cashless system would hit it even harder. As the effects on both the vulnerable and the charities that support them would be disastrous. However, even if society is not yet ready to fully ditch cash, one thing is certain – the opportunities in this space are huge! The industry is developing at a rapid pace and innovation is showing no signs of slowing down anytime soon.