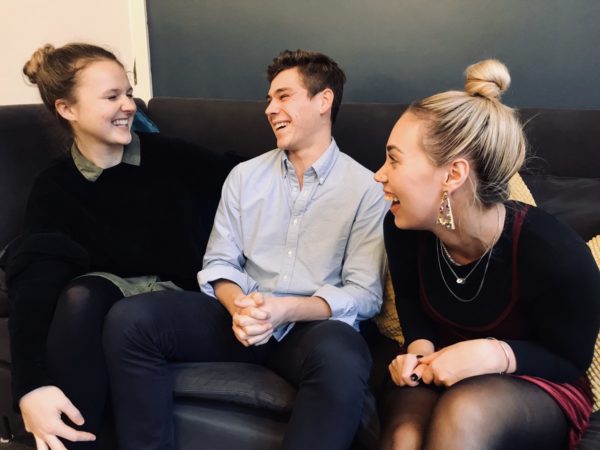 9 Jan
Meet the Interns: Juliette, Nick and Hannah
Meet Juliette Perry, Nick Winder and Hannah Jordan, our latest interns at Ingenuity. 
---
What were you doing before Ingenuity?
Juliette: I was working at Livia's, a start up confectionary brand. My role was Marketing Executive and some of my responsibilities included managing events, collaborations and partnerships, PR, project management and assisting the Head of Digital.
Nick: Spending far too much of my time reading about the Romans and Ancient Athenians at University.
Hannah: I had just completed a master's in Human Rights at the University of Roehampton, whilst working as a Parliamentary Assistant at Focus on Labour Exploitation (an anti-slavery research organisation.)
How did you hear about the scheme?
Juliette: A friend of mine knew an employee at Ingenuity and saw this internship opportunity on her LinkedIn profile. After reading over the spec, I was definitely interested, although I was a little fearful to be an 'intern' again after having been employed for over two years. However, Ingenuity clearly offers great career progression and I felt it would provide me with a broader insight into the new business world.
Nick: Despite being hesitant to use the 'friend of a friend' story, I heard about Ingenuity through a friend at my cricket club. I wasn't sure what industry I wanted to go into post-uni, but I felt the internship would be a great way to learn about a broad range of sectors. I wanted to learn on the job and be able to contribute to a team without having any sort of marketing background.
Hannah: I was interested in getting experience in PR and comms after being unsure about going into the third sector once I finished my degree. I got chatting to my former Jack Wills work buddy Jess Bird, who currently works on the PR team, she told me about the intern scheme and encouraged me to apply!
How was your time split within your role?
Juliette: Although my internship was within the Lead Generation team and based around account management, due to my prior experience I've also worked on projects within the marketing team. This includes assisting at events and designing reports using the Adobe suite and I loved the variety this gave me. The majority of my time, however, was spent learning all about account management which was completely new to me. This included understanding new systems, prospecting for new business, researching, data and targeting. I also shadowed other account managers to learn the lingo, write bespoke emails, send out mailers and absorb every ounce of information possible.
Nick: My focus was initially on supporting account managers across the Lead Generation team. I also helped the Events team at our Digital Connect Event held at Stamford Bridge, which was a great opportunity to mix with top agencies and brands. My 'specialism' quickly became data and targeting. This meant getting my head round the hundreds of subtleties in job titles and tracking brand movement, with the help of our insight platform 'What Brands Want', in order to produce prospect lists of people we felt would be interested in hearing more from our clients..
Hannah: My role is officially an Account Co-ordinator across the PR, Content and Insight teams. However, my job varies from day to day. Mostly I support the PR team with client work. This can mean talking to journalists to see if they want to feature a client's latest news or writing social posts. But I also help the team prepare for important pitches.
I have daily tasks to support the the Insight team, which has recently launched an exciting new platform – 'What Brands Want'. This role also entails posting the latest brand related stories, sending out mailers and collating important data to make the best brand-led content easily accessible for clients.
What was the number one thing you wanted to get out of the internship?
Juliette: When accepting this internship opportunity my number one goal was to impress my team with my drive and enthusiasm, in the hope that I may receive a permanent job offer at the end of the three months. Knowing this role would be completely new to me, I was also eager to learn and gain a deeper understanding of how this industry works.
Nick: Before I started, it was all about getting my foot in the door of the world of work, getting used to spending time in an office environment and learning as much as possible. Very quickly I realised that I actually really enjoyed my role, so naturally I wanted to join the team full-time and gain clients of my own to manage.
Hannah: When I started, I was really keen to improve my research and writing skills as this was something I had enjoyed throughout university. I was also excited to learn something different to my degree discipline.
What have been your favourite moments whilst working at Ingenuity?
Juliette: I was sold on working here within the first few minutes of my interview, as the office environment and the culture and passion of each employee really shined through. Now three months in, I'm pleased to say that this is definitely still the case. Although Ingenuity has many different teams, everyone is working together and striving for the same goal. One of my particular highlights would have to be the Quiz Night. It was full of friendly competition, pizza, pick 'n' mix and of course, booze! It was also a great opportunity to get to know the team better outside of working hours.
Nick: I know it's a cliche, but the working environment at Ingenuity makes every day great fun, and drinks in the office every Friday night are always a lively bonus! Work-wise, I have loved being given the chance to stand on my own two-feet from such an early stage and present my own ideas to more senior members of the team.
Hannah: I've loved working with the team developing the 'What Brands Want' platform and a real highlight for me was conducting interviews with top brand marketers to inform the BrandTalk videos, which feature on the platform. I've loved getting to know everyone in the agency, particularly through social activities (like prosecco Fridays) which I look forward to every week!
What has been your greatest learning during the programme and has it surprised you?
Juliette: How a new business agency functions and what job roles this includes has been eye opening. I didn't really know agencies like this even existed before coming here! I have also learnt how to be a successful account manager and what that role entails. Ingenuity has also proven my theory that a company's culture is everything. You have to work somewhere that challenges you, furthers your learning but ultimately, makes you happy. Everyone here is very welcoming, encouraging and will continue to answer your 100th question of the day still with a smile on their face, which is impressive!
Nick: I'm surprised by how much I've enjoyed working within the agency and brand landscape. With so many of my friends becoming accountants, lawyers, management consultants etc., I didn't know what to expect. But with the combination of strategy, data analysis, consulting and sales I feel that I am constantly learning across all disciplines.
Hannah: I've really enjoyed learning about the diversity of Ingenuity's services, especially how crucial the PR offering is within this. I've been surprised by how much I loved the launch and progression of the What Brands Want platform and am so pleased that it's now up and running successfully for all our clients to enjoy.
What advice would you give aspiring interns?
Juliette: Managing to get my foot in the door here at Ingenuity was all down to networking and the greatness of LinkedIn. It really is who you know, not what you know. I've always ensured that I connect with anyone I've worked with or met in my career as you never know how that might end up benefiting you later in life. And an additional top tip, if it feels right in your gut, do it. Whether you're unsure about entering a new industry, taking a pay cut, being an intern or saying goodbye to some of your favourite colleagues (or all of the above!), if it feels like the right decision, jump.
Nick: For those thinking of applying, I'd say keep an open mind and try to find out as much as possible. Even after preparing for the interview, I still felt that it was hard to explain exactly what Ingenuity did, but now it makes perfect sense. It's fun trying to explain (even to my friends) exactly how Ingenuity is positioned so uniquely between brands and agencies and what I do day-to-day, and that is what makes the job (and internship) so exciting. Once you're here, just get stuck in as much as possible, whether that's coming along to the pub for a couple after work or joining the back tables for lunch. There's no doubt that what makes Ingenuity such a great place to work is the people, and they don't bite.
Hannah: Be confident, ask as many questions as you want and take as many opportunities you can!
---
We're always on the look out for dynamic new starters looking to contribute to a collaborative working environment. We believe in playing to the strengths of each individual and so build roles tailored to the individual. 
Head over to our Careers page to see our latest roles.