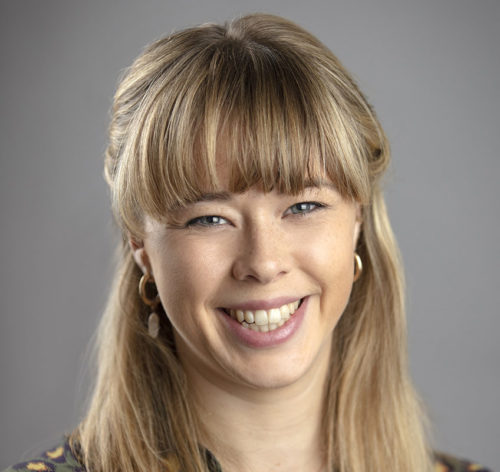 28 Feb
Meet the Team: Kelly Double, Group Account Director at Ingenuity
Meet Kelly Double, Group Account Director across our PR & Visibility, Content and Insight teams. 
---
Kelly Double has spent 1,227 days at Ingenuity, starting as a PR Account Manager and is now a Group Account Director across the PR, Content and Insight teams.
How would you describe Ingenuity in just three words? 
Committed, hardworking, family
If you could write your own job title that best describes what you do here, what would it be?
That blonde girl spinning plates with her wonderful team in the corner, trying to win new clients and keep existing ones awash with PR coverage, content and invaluable new business insight.
What has been a standout moment work-wise for you whilst working here?
It's been a mad couple of years for me career-wise, but the launch of What Brands Want – our new insight platform – at the end of 2019 has to be one of them. It was an entirely new experience and has such exciting potential.
What social or company party has been your fave and why? 
Our nautical themed summer party in 2019 was epic for a number of reasons.
I got to dress as a mermaid (Ariel was a childhood icon of mine)
There was a boat
There was pizza
But mainly because it fell on my 29th birthday and instead of having to work (although I did have a pitch in the morning), I basically had a birthday party organised for me before I went to the South of France for a week. All round goals.
What book or podcast would be number one on your recommended list and why? 
I am an avid reader and podcast listener, so asking me to list just one is virtual torture. So you're going to have to endure a top 5 of each:
Podcasts
Table Manners (Jessie and Lennie Ware)
The Week Unwrapped (The Week)
Desert Island Discs (BBC Radio 4)
Beyond Today (BBC Radio 4)
The High Low (Pandora Sykes and Dolly Alderton)
Books
The Party (Elizabeth Day)
Eat, Sweat Play (Anna Kessel)
Tipping Point (Malcolm Gladwell)
What do you enjoy doing when you're not working?
Yoga, cooking, wine
Who would be your three ideal dinner party guests and why?
David Attenborough – no explanation required
My A-Level Politics teacher Mr Franklin – I adored and admired him so much I sprayed his name on the back of my school shirt on muck up day before we went on Study Leave
Princess Margaret – because she is a VIBE
---
We're always on the look out for dynamic new starters looking to contribute to a collaborative working environment. We believe in playing to the strengths of each individual and so build roles tailored to the individual. 
Head over to our Careers page to see our latest roles.