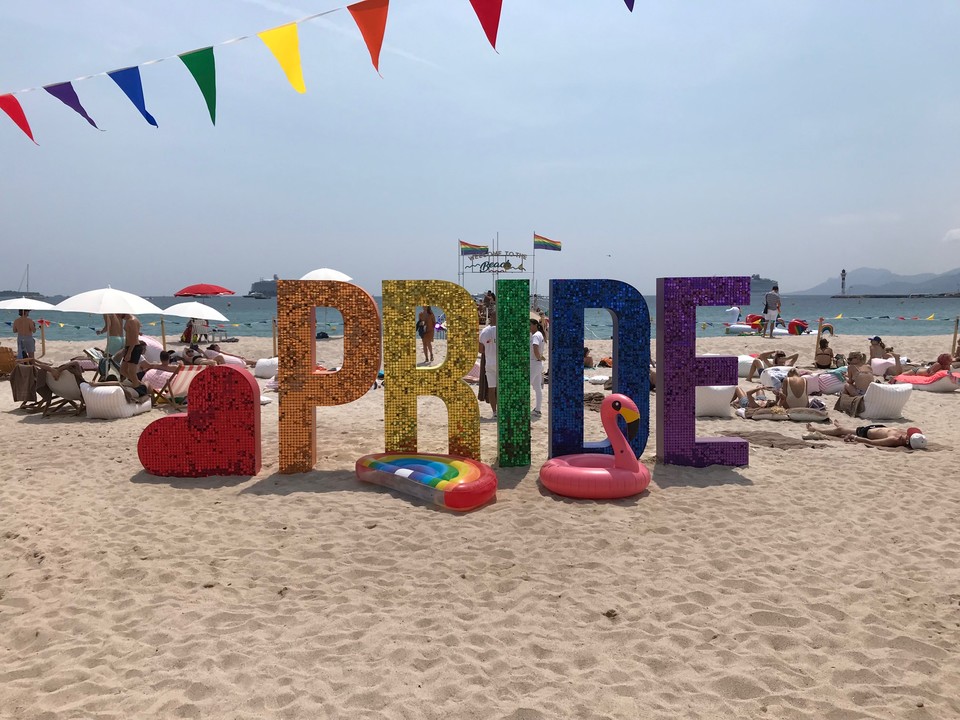 1 Jul
Pride in Marketing
Written by Edd Weller, Brand Partnerships Director at Ingenuity.
---
So, we've changed our logo at Ingenuity, what does this mean?
July is here and excitement is building around all my key projects! I'm taking a little moment to take stock and think there are some important things to remember as we go into Pride in London – on Saturday.
Cannes Lions
After months of prep, Ingenuity was very pleased to assist in delivering CLX to rave reviews at this year's Cannes Lions Festival of Creativity. Designed to provide a networking opportunity for senior marketers to Connect Learn and Experience while on the Croisette. Partner brands (Activision Blizzard, Microsoft, Adobe, TikTok, Amazon, NBC Universal and iHeartRadio) laid on some incredible content in the form of roundtable discussions provided solely for senior leaders carrying an invitation only badge.
Working on this occupied a good chunk of my week in the sun, but it didn't stop me tapping into my passion points and dipping into the Google beach for their LGBT+ day:
Amusingly, the first conversation I had as we walked onto the beach was around the huge sequined pride logo. The standing question was of course, 'where is this kept for the rest of the year?!' This evolved into a core message from the Panel chat with one of my faves, Laura Jordan Bombach.
After P&G discussing the incredible work they have done since the push-back on 'The Best a Man can Be' in the states, Laura then referenced her work with Stonewall on last year's 'Come out for LGBT' (one of my favourite LGBT campaigns) and how important it was to engage a team that were diverse and included our allies and champions. (A special mention here for the P&G UK team for their Pride in London sponsorship).
The final take-away was that equal rights shouldn't be a priority for only one month a year. Brands need to remember this. We don't all have short memories, and watching the logos change back to their usual colours in September is as bleak as the shortening days!
Pride in London
Outside of my day job (with the support of our esteemed leader) I volunteer on the sponsorship team for Pride in London. This has given me some wonderful insights on the shaping of the Pride Jubilee theme, marking 50 years since the Stonewall Riots. This year, partners have been asked to tell their brand story through LGBT+ people and moments with the goal of making the Pride celebration across the UK into a truly year-round celebration. We hope this will make it easier for brands to get behind the message consistently.
Where this helps me is in the understanding of how the campaigns execute, what's required, and also how Pride in London has to operate to ensure the message is right throughout the parade, communications, social channels and every touch point.
A special shout out to Barefoot Wines for the simple fact that their brand is founded on the basis of supporting the LGBT+ cause, be it with wine or cash. This case study shows that it is doable to be always on with this message and it doesn't have to cost the earth or dominate your communications. Simply mean what you do, and it will shine through at every relevant opportunity.
(Think I managed an article about Cannes without mentioning 'brand purpose') Whoop!
---
At Ingenuity we understand the wider agency and brand relationship. With insights gained from years of experience and having worked with the best-of-the-best on both sides of the brand-agency relationship, we can help facilitate viable partnerships that last. If you'd like to learn more from our insights or want to gain a clearer view of the agency-brand ecosystem, contact Duncan on newbusiness@ingenuitylondon.com for more information.