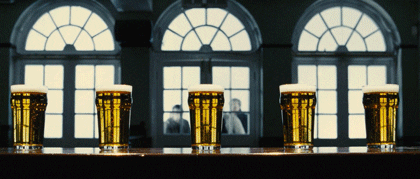 21 Apr
The Marketers' Tavern Times | Issue Three
Letter from the Editor
The gutwrenching news that pubs will be the last to return to normality really does bring our affinity into stark reality. Therefore we must take what we can get and The Marketers' Tavern has done just this. Acting as a void to fill the loss and longing of our traditional pub, its third instalment last Friday, was as always, full of vim and vigour.
Once again the pub session was helmed by Partnership Director Edd Weller and  assisted at the tiller by Head Barman Freddie Fox. A duo you would fully trust to sail through dangerous waters back into the harbour and into a welcoming pint.
The Taverners' Talk Episode Three
Virtual drinks were flowing and the atmosphere was as jovial as any normal pub on a Friday afternoon. The hearty debates were but all focussed around behaviors, habits and hobbies. The main talking points included:
The future of pubs:
Everyone was missing the sociability of bars, pubs and restaurants. And even the Monday morning update with a colleague at the water cooler is notably absent.
The discussion moved to the future of physical pubs. Will we have to book ourselves a slot in the pub, with a social distancing area? Will it become a better experience? Potentially no queues at the bar is a winner, but would it go against the natural charm of a place with 20% of the usual footfall? And what's the effect on the margins at this point?
The parallels with when the smoking ban came in were cited a precedent for changing the pub environment, and many say it was for the better. Pubs once again will have to change and adapt quickly to cater to the new sets of social rules and regulations. A couple of bars in London already made similar adjustments before they were closed.
Bacardi and Deliveroo seem to be jumping ahead of the curve even further with their home delivery service. However, most of our patrons would swap a home delivery tipple for a good knees up amongst pals down their local. Here here!
Changing behaviours will lead to long term customer acquisition
All consumers' behaviours are changing, and as we are quickly learning, it's the brands focusing on understanding their consumers better that will have a long term impact on gaining trust and custom.
There has been a huge change in purchase behaviour across all personal hygiene products, with  antibacterial sprays and hand washes becoming  one of the fastest-selling items in supermarkets. Brands, have the ability to use this perception change to create a brand story which informs and educates consumers on hygiene knowledge and also appeals to their current sensibilities. Dettol is an example of this already, as it has pledged to make 150,000 care packages for the NHS.
D2C 'The Holy Grail'
Following on from this quite nicely, was the discussion about whether people will go back to popping to the shop or stick with ordering online.
It would seem the number of ecommerce fans is growing almost hourly, especially with older generations getting on board. The current quarantine is forcing people to buy things online that they previously wouldn't have. Strong white bread flour? Nespresso coffee pods? And if anything, it is giving customers a sense of calm and relief that they can do it from the luxury of their sofas. The question is, will this behaviour change entice a direct shift into a subscription model for all necessary items, where customers will be able to receive household items on a weekly/monthly basis, leaving bricks and mortar stores to take another hit?
All we can say is that for a while already companies have been obsessed by the direct to consumer model, and this will only accelerate. We suspect though that this has been forecast before…
WFH: Well done nation
The commercial property sector seems to be mighty turbulant. With many companies looking at the way their staff have been able to successfully work from home as an indication that they may not need office space at all.
When we do return to working as normal, the need for office space could also be doubled due to social distancing regulations, so splitting employees into working from home and office groups might become the norm. Meaning  the patrons could see a sharp decline in commercial tenants for the foreseeable future.
Music industry rallying
The news that Facebook will be suspending conferences of more than 50 people until 2021 rasied questions around whether this action will impact the entertainment and leisure sectors in being able to return to normal this year, as Facebook have quickly set a standard that others may follow.
It is particularly scary for the sport and entertainment sectors. However, through the gloom, there is a ray of sunshine. More people than ever are streaming music as they look for ways of escaping reality and the music industry as a whole has been innovating more than ever with artists coming together to offer live digital concerts and streams, proving the hidden benefits of forced innovation in a time of crisis.
I look forward to seeing as many of you as possible down the Marketers Tavern this Friday at 3pm. And just remember Carol Baskin was to blame for all of this.