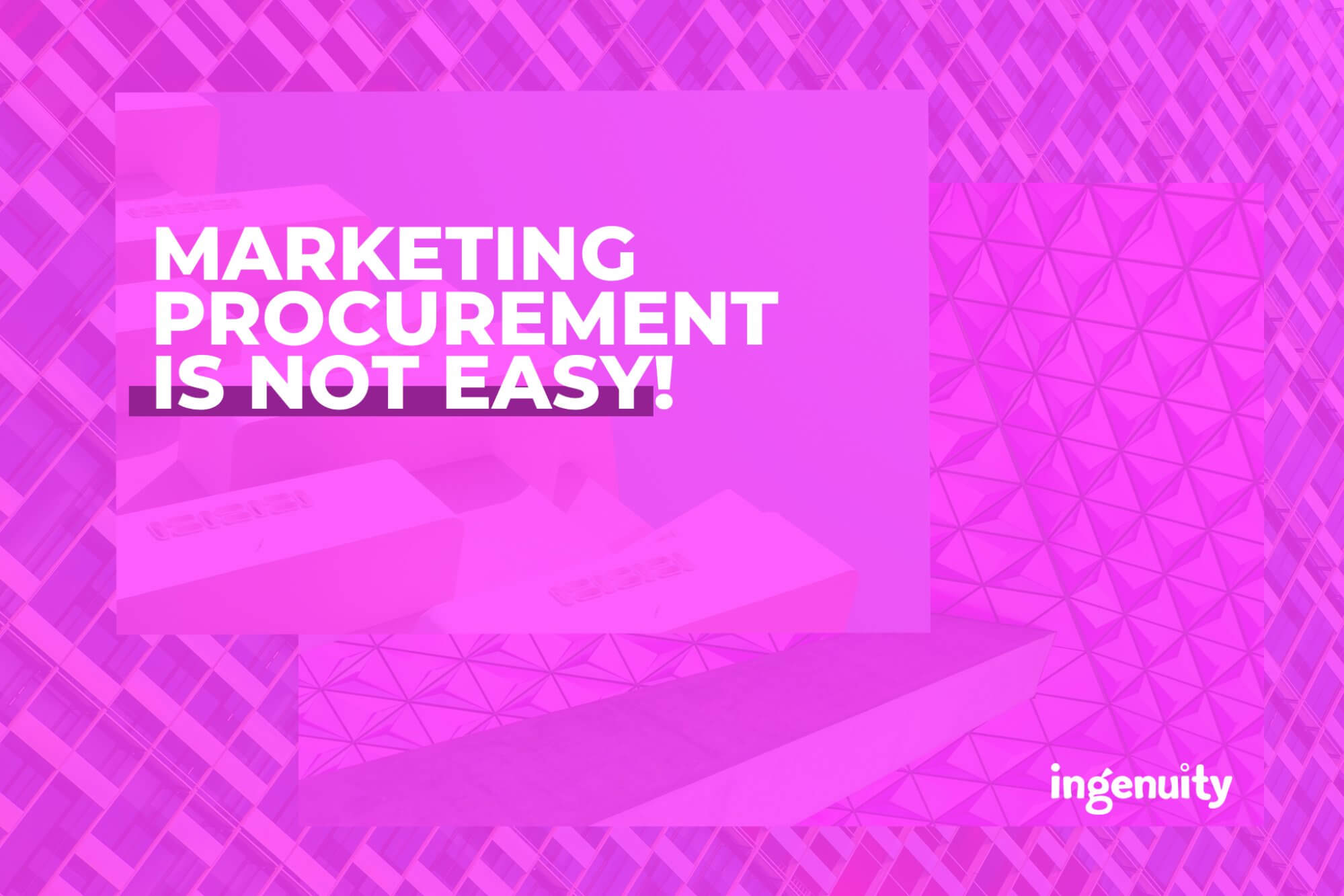 27 Feb
The top three challenges in marketing procurement for 2018
Ask us about our Marketing Procurement event – taking place on March 7th.
Email events@ingenuitylondon.com for more information.
---
Procurement professionals, you are not alone in the issues you're currently facing.
Over the past five years, I've gathered insight from the 70-plus events I've hosted across different marketing disciplines. It means that nearly a thousand marketers and procurement professionals have shared their business challenges with me – along with their disappointments and successes – when it comes to working with agencies.
In this article you'll find that knowledge and recent experiences condensed into three challenges that will not only instil a sense of unity among the procurement community but will also stimulate change within this area.
1 – The need for speed
Procurement structures for marketing were established at a time when marketers from leading organisations were mostly interested in engaging with big, traditional agencies, with enough members of staff to manage their global accounts. These agency reviews would take months to be finalised and the same agency would be expected to answer many different challenges. Sound familiar?
Procurement professionals are now under pressure from their stakeholders, who are looking to work with more innovative, nimble and agile agencies. These are words I hear all the time from marketing teams. Marketers can't afford to wait for a six-month review to bring in a new agency; they want to trial different offerings and they want to do it now. A challenge addressed in a brief might look completely different just a few weeks after it was released.
Don't get me wrong, the big agencies out there are still very much needed, but there's now more of an appetite to trial different things.
2 – Technology and start-ups 
Leading on from the point above, technology is an area that many businesses are trying to navigate. The pace of innovation is only adding to that challenge, so the pressure to find the right platform, tool or partner is constantly ratcheted up for procurement teams. Some of their stakeholders' marketing requirements might best be fulfilled by a tech start-up e.g. a three-person company that is just two years old; very different to the traditional agency model they're used to.
Influencer marketing is a prime example. Most of the solutions to a lot of challenges within this area are coming from technology start-ups created in the past three years or so. Procurement professionals are trying to understand how to embrace these start-ups to continue to utilise suppliers offering solutions that will really add value to their business. The due diligence that procurement teams need to go through to ensure that those start-ups fit all of their company's criteria could restrict their choice of smaller suppliers. It's a challenging but exciting space to be in, where companies have the opportunity to use more innovative technologies within their marketing.
3 – It's all blurry! 
Finally, disciplines are blurring together. It's becoming harder for procurement teams to pigeon-hole agencies. For instance, I get calls from procurement professionals who are looking to review their social media roster. They are unsure about how to review this marketing channel, as so many agencies from their other preferred supplier lists – including PR, content and integrated digital agencies – are both highly qualified and able to offer social media support. Keeping agencies segmented into separated disciplines will only become harder and harder for procurement.
What's the answer? 
It seems like procurement teams are feeling there might be a need to change the way they engage with suppliers. This is an exciting opportunity for them to create a new structure, with more flexibility, which will allow their stakeholders to work with the best solutions and suppliers in the market.
These concerns are quite common across different organisations and yet procurement teams might think they're on their own. This is where we come in. We would like to hear from all procurement professionals who can relate to the challenges I've shared with you and work towards solving common problems. Ingenuity offers a vast array of services to help procurement departments keep up to date with the agency/technology landscape.
Join us on the March 7th for our exclusive event in London for procurement professionals. The theme is 'The Future of Digital Agencies' and will give you the chance to meet and question the most innovative agencies in the marketplace. If you want more information, then please get in touch by emailing juliana.decamargo@ingenuitylondon.com .
---
Ingenuity holds monthly new business chemistry session events at Stamford Bridge that offer the opportunity to meet decision makers that are in the market for new agencies.
Every event has a theme that is aligned with current trends and client needs. They address all the major channels, disciplines and issues facing marketers.
If this interests you, please visit our events page to find out more. Alternatively, fill in your details below to stay up to date with all future events.