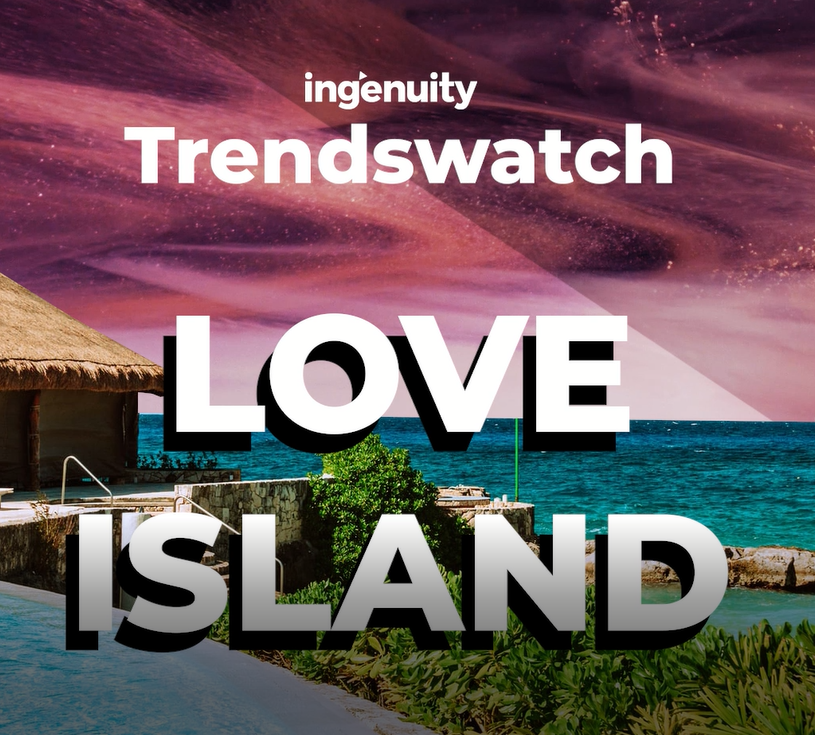 22 Jun
Trendswatch | New Business Insight From The Past Week
It was the week that the Scots took over the capital and they brought the weather with them! However, the Euro derby day turned out to be rather anti-climactic – with a draw of 0-0!  
In terms of the trends of the week, today we talk Love Island, staycations and brand boycotts…  
Love Island  
It's back! ITV's most prized cash-cow returns next week and the press is buzzing with sneak-peaks and rumoured Islanders!  
ITV is predicting the best year ever for its Love Island TV franchise, with brands being asked to pay £100,000 per advert to attach themselves to the reality show.  
Love Island has coupled up with nine official partners – led by returning headline sponsor Just Eat, in a deal thought to be worth well in excess of £5m annually. 
The line-up also includes four new partners: JD Sports, official "Feel Good" partner Boots, dating app Tinder and drinks brand WKD. 
However, some advertisers have hung back, concerned about the mental health issues associated with the programme following the suicides of two former contestants and that of long-time host Caroline Flack last year. Last week, ITV put out the latest update to its duty of care protocols, which detail how contestants are prepared, looked after during filming and given "aftercare" to deal with a new celebrity lifestyle when the season finishes. 
Despite the shadow that hangs over a once-carefree primetime staple, many brands are still prepared to pay big sums to be associated with it. All nine sponsorships were signed before the economy began to reopen in March. 
Staycations  
Lockdown has made many of us appreciate what is closer to home and the appetite for a much-needed change of scene means that many Brits are seeking holidays in UK beauty spots, such as Cornwall and Scotland.  
As we all know the summer of 2020 didn't quite go to plan, with 88% per cent of people having to cancel or postpone their holidays as a result of coronavirus and lockdown. Instead of holidays abroad, 48% per cent of people planned trips in the UK instead.
 The most popular staycation destination for UK holidaymakers last summer was a seaside holiday (14%), followed by day trips (14%) and trips to the country (12%) and this looks set to continue this year.  
 Brands are also benefitting from the staycation boom. With leading retailer Halfords seeing Sales of bikes rise by 54.1% in the year to 2 April. 
Halfords has said that continuing restrictions on foreign travel and "pent-up" demand for bikes would support future sales. 
Brand boycotts  
Last week Cristiano Ronaldo's removed two Coca-Cola bottles during a press conference at the European Championship has coincided with a $4bn fall in the share price of the drinks company. 
 The 36-year-old shifted the bottles of Coca-Cola away from him during a press conference in Budapest on Monday in the prelude to his country's Group F game against Hungary. 
 The star athlete followed it by holding up a bottle of water before declaring in Portuguese: "Agua!", appearing to encourage people to choose that instead. This was then followed by the company's share price dropped from $56.10 to $55.22 almost immediately after Ronaldo's gesture, a 1.6% dip. The market value of Coca-Cola went from $242bn to $238bn – a drop of $4bn! 
 Ronaldo's public snub signifies a different kind of threat to the once cosy commercial balance of power between stars and brands, one born of the social media era. Stars are now their own personal brands and because of this they are not afraid to voice their opinions – even if it does cost a company billions…  
Come back next week for even more trend updates!