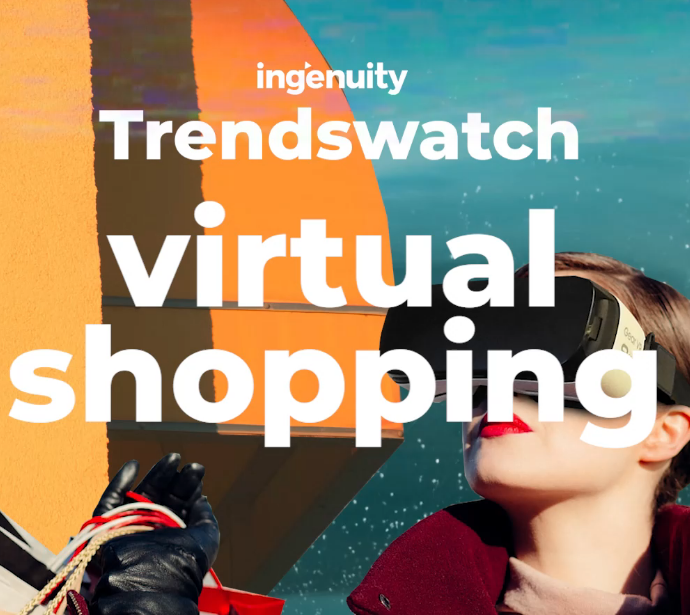 6 Jul
Trendswatch | New Business Insight From The Past Week
July is upon us, and it might just be coming home after England beat Ukraine at the Euro's 4-0, securing them a place in the semifinals this Wednesday!  
This week we also saw the return of Wimbledon, and with the Olympics kicking off in August it really is shaping up to be a summer of sport.  
In terms of trends this week, today I'll be discussing virtual shopping, the fast-food ad-ban and Yeezys Vs Walmart.   
Virtual shopping  
Traditional high streets are on the decline and have been since before the Covid-19 pandemic even emerged to help accelerate the process. The rise of online shopping, alongside high-profile acquisitions by leading retailers that solely operate online have underlined the trend.   
The recent deals conducted by ASOS in purchasing high street brands like Topshop and Miss Selfridge from the Arcadia group, and the acquisition of Debenhams by online brand Boohoo have shown that in the battle for brick-and-mortar shopping, it's the digital retailers that hold all the cards.   
Last week saw Obsess, an American experiential e-commerce platform that enables brands to create shoppable online virtual stores, announce that it has closed a $10 million Series A funding round, bringing the company's total funding to $13.4 million.   
Obsess will use the new investment to accelerate its global expansion and product development efforts, continuing to expand beyond fashion and beauty into additional retail verticals including home wear.  
Leading brands like Coach, Tommy Hilfiger, Dermalogica, Nars, Charlotte Tilbury, American Girl, Sam's Club, Mary Kay and Nayomi are among the companies working with Obsess to increase their brand equity while reaching new consumer and wholesale audiences through highly engaging, interactive online experiences. With the virtual world now being our default when it comes to shopping, it is worth keeping an eye on company's like Obsess.   
The fast food ad-ban 
The government is poised to announce a ban on junk food advertising online and before 9pm on TV from 2023, as Boris Johnson looks to deliver on his pledge to tackle the UK's growing obesity crisis.
The new measures, which will be some of the toughest marketing restrictions in the world, are set heavily impact the more than £600m spent by brands on all food advertising online and on TV annually.  
The 9pm pre-watershed ban on advertising TV products deemed to be high in fat, salt and sugar could cost TV broadcasters such as ITV, Channel 4, Channel 5 and Sky more than £200m a year in revenue.  
However, the ban has faced some backlash from the industry. The Institute of Practitioners in Advertising – which represents the large ad agencies – have said the government's own impact assessment shows a watershed ban on high-fat, sugar and salt food and drinks would only remove around 1.7 calories per day from a child's diet – the equivalent of half a Smartie.  
Yeezy vs Walmart 
Last week Kanye West sued Walmart, accusing the retail giant of selling knockoffs of his Yeezy Foam Runners. The billionaire's lawsuit alleged that Walmart has been profiting from his name by selling these sliders that look "virtually indistinguishable" from his.  
West is suing to have the shoes removed from Walmart's site, as well as for monetary damages. The suit said the Yeezy brand is worth "billions" of dollars, and the company believes it has suffered damages in the "hundreds of millions of dollars." Now it's worth noting that when West's slip-on foam sneakers were introduced in 2019 for $75, they garnered some ridicule, with people comparing the shoes to Crocs on social media.  
Still, the shoes quickly sold out and have since been resold for up to three times their original price, while the Walmart shoes were selling for about $20 to $30, documents filed in a Los Angeles court said.  
But why all the fuss over sneakers? Well, millennials and Gen Z's are commonly associated with their casual and relaxed dress codes compared to past generations. According to a Business Insider article, sneakers are more "prestigious", partially because people want to be more comfortable which explains the high adoption of sneakers that promise better comfort and now, better style.  
Another reason for the hype is the scarcity of Adidas YEEZYs. Adidas is known to make a limited number of YEEZYs for every new launch- making them a hugely attractive asset to 'sneakerheads'.  
Come back next week for more brand news and insights!