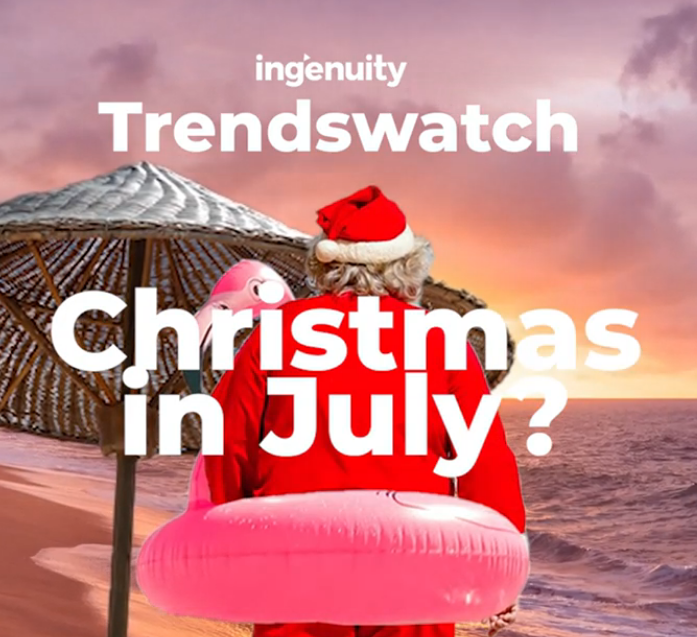 14 Jul
Trendswatch | New Business Insight From The Past Week
Unfortunately, we didn't win the Euros, but we did make it to the final for the first time in 55 years! And with the World Cup next year, it may just be third time lucky…   
 In terms of the trends of the week, today I will be discussing smart water, the male beauty industry and asking why on earth some brands are celebrating Christmas in July?!   
 Smart Water   
 Smart Cars, Smart TV's and now introducing Smart Water! And no, I don't mean the Jennifer Aniston one, I'm talking about a new up and coming Dutch start-up that is set to hit the UK.  
Aquablu, is a smart-water purification start-up that began in small village called Voorhou in the Netherlands. Its aim? To prevent the use of environmentally detrimental plastic water bottles.  
This is achieved through using supreme osmosis technology, which removes potentially harmful substances from tap water, it then mineralises and rebalances the water.  
The brand has recently launched smart water taps for supermarkets and offices across Europe dubbed Aquablu Refill. This offers both chilled and sparkling water that is completely free of disposable packaging and harmful substances – a first of its kind in the EU.  
 So, prepare to see Aquablu refills in your offices very soon!   
 The male beauty industry  
Following the demise of toxic masculinity and the rise of fluid identities, men's beauty is finding its stride. Amidst a larger wave of self-care, men are embracing skincare, makeup and body care, and brands are taking note of the shift in masculine beauty and hygiene. 
 Harry Styles is a great advocate of this, especially as it's recently been reported that he registered for a new trademark for "wholesale perfume and cosmetics," sparking rumours that he, too, is starting a beauty brand of his own.  
 Styles regularly flouts outdated gender tropes, sporting nail polish and donning a dress on the cover of Vogue.   
Another star embracing this trend is the rapper Lil Yachty, who feels that men should be able to wear nail polish without any stigma. He launched his own brand, Crete, in May of this year, with hopes that the unisex brand, will allow anyone "to show (their) creative side". 
Overall, the expression of masculinity is evolving, and the male beauty industry is growing at a rapid pace – it wouldn't be surprising if in the near future we start to see the likes of Revlon and Rimmel and other highstreet store beauty brands get involved in this growing sector.    
 Christmas in July  
It seems that it really can be Christmas every day! Pret A Manger has brought back its Christmas sandwich for a limited time after hearing customers felt they missed out in December during lockdown.  
 Set to Slade's Merry Christmas Everybody, Holder is seen sitting in Pret confused by the Christmas cheer until he realises that the Christmas sandwich is back on the menu. To launch the menu item in shops, Holder gave away 100 Christmas sandwiches to customers of Pret's 182 Wardour Street store.   
 Pret will donate 50p from every Christmas sandwich sold to The Pret Foundation, which works to alleviate poverty, hunger and homelessness.  
Clare Clough, UK managing director of Pret a Manger, has commented on the launch saying: "Every year, customers ask us for the Christmas sandwich to return earlier and earlier, and after many customers missed out on having one last year, we've decided to stand by our mission of spreading joy through our food and coffee, and bring our iconic Christmas sandwich back early for a limited time this summer."  
So, if you're fancying some early Christmas festivities head down to your nearest Pret!   
Come back next week for more brand news and insights!