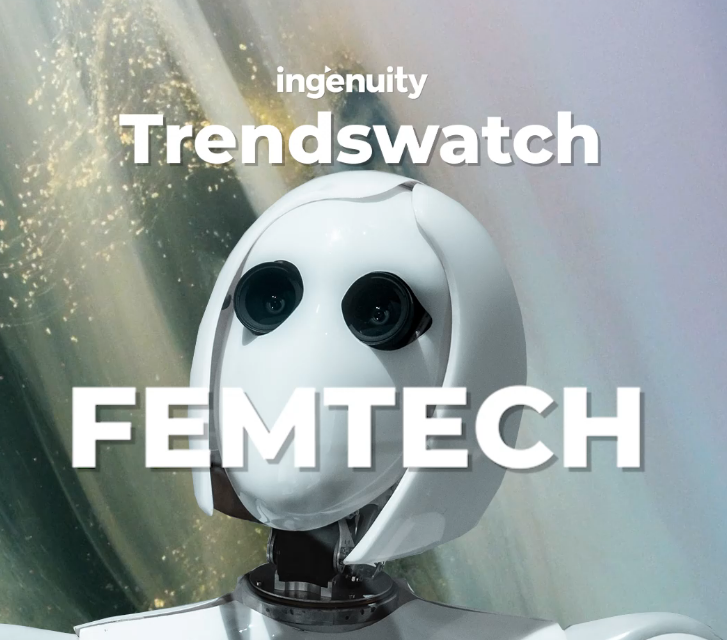 4 Aug
Trendswatch | New Business Insight From The Past Week
Last week started on a high with Team GB winning a whopping three gold medals at the Olympics on Magic Monday (shoutout to Tom Daley!). Followed by the not so happy news (for some) that the X factor is no more!
In terms of the trends, today we will be chatting Femtech, same-day delivery and asking is this the end of the Supermarket bank? 
Femtech 
Recently we've seen a rise in female-oriented businesses exploring tech that offers products that are solely dedicated to improving the health of women.
The new market segment has been dubbed femtech, and according to recent reports has the potential to reach $50B by 2025.
In order to capitalise on this growth, Elvie – London-based leading femtech startup  – has bagged £58 million in a Series C funding round.
The brand is famous for developing iconic products that can massively improve women's lives, also help to revolutionise the categories.
The brand was established in 2013 by Tania Boler, Elvie brought two new and innovative breastfeeding products Elvie Catch and Elvie Curve to the market in October 2020.  
It is worth noting that since the launch of the pump on the catwalk of London Fashion Week in 2018, the brand has continued to experience hyper-growth.  
Femtech is still a new trend, and because of this there is still not that much research about it. Yet, the topic has received a great deal of attention from the media recently, due to advancements of smart medical devices, and alongside the rising demand for digital health solutions due to the pandemic. 
Same-day delivery 
Rapid delivery, especially of food, has risen in popularity since the pandemic erupted last year (with many of us gaining serious Deliveroo addictions in lockdown)!  This shift has also led to an increase in the development of specialist companies such as, Weezy and Getir, that cater to our need for fast-delivered products.
And whilst next day delivery is a modern-day phenomenon that was pioneered by the likes of Jeff Bezos, it's already becoming outdated with the ongoing rise in brands offering same-day delivery.  
This week Marks & Spencer announced a new, ground-breaking same-day delivery service for apparel as it builds its online capabilities.  
The service is expected to include products which may be ordered at the last minute, such as school uniforms and evening wear.  
In a statement, retail analyst Richard Hyman told The Times "M&S has upped its competitive ante; the question is whether faster delivery is an advantage because the brand's challenge is more around the relevance of its product and whether they can gain market share after so many years of declines".  
It will be interesting if other fashion retailers follow M&S's lead and lean into the growing trend.  
The end of Supermarket banks?  
Back in the noughties, supermarkets adding financial services was all the rage. This is because in the post-financial crisis era, with trust in banks at a record low, grocery giants angled to become the new 'challenger banks'.
Tesco Bank, M&S Bank and Sainsbury's Bank, all capitalised on the opportunity with competitive rates and vast numbers of products, including mortgages. Tesco's banking arm launched its current account in 2014, at the time offering 3% interest on balances and Clubcard points on spending in a bid to win customers.
Yet in the post-covid world, that trend is fast disappearing. Last week Tesco's became the latest to call time on several of its financial offerings. The supermarket announced that it will be closing all of its customers' current accounts from the end of November, and will be writing to them on their next steps.
Meanwhile, one of the UK's other 'challenger banks' is expanding its offering… 
Starling Bank, which offers banking via a mobile phone app, has completed its first acquisition, of buy-to-let mortgage lender Fleet Mortgages, which caters to  landlords. The £50m purchase is part of Starling's strategy to expand its lending.
Ultimately the banking sphere is changing rapidly and is definitely a sector to be monitoring. 
Come back next week for further trends and brand news!