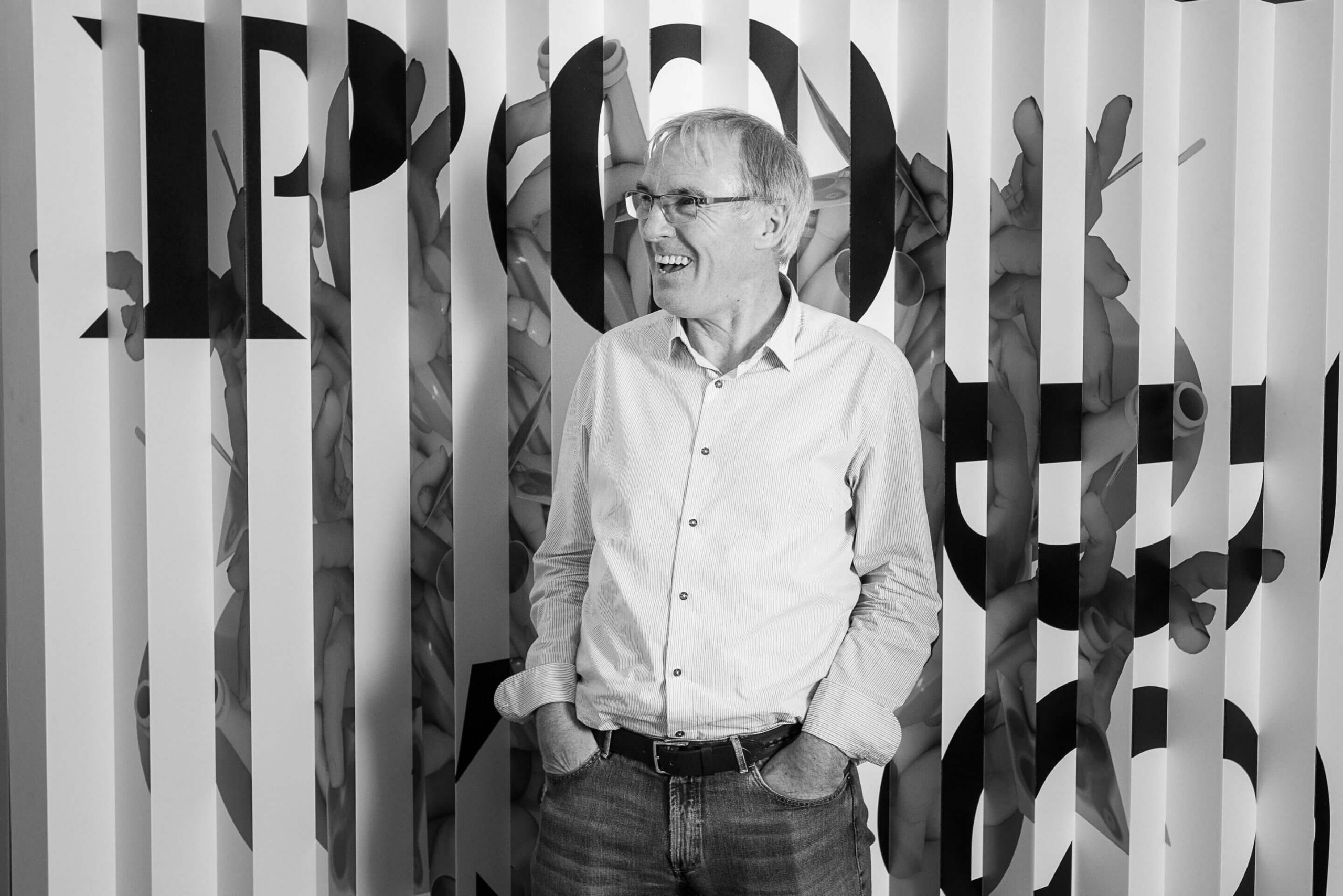 13 Mar
What the Podge?!
Could you tell us a bit more about Podge and how it all works?
Podge is a once-a-year gathering of senior agency people, from CEOs to Strategy and Creative Directors, who are often short of time to attend social gatherings, awards ceremonies and so on. Podge events give them the opportunity to network within an agenda-free environment, with likeminded and equally time-poor individuals!
The seating plan is always done by the organiser to make sure that guests are fully integrated and can speak to a number of different individuals. Half way through every lunch we then make all the odd numbers change tables. The process of changing tables entails around 125 people changing places which is always a fun and chaotic part of the lunch.
What was your rationale behind Podge? Why did you set it up?
As the owner of a leading type house during the 1980's, all of my clients were from the design world. I was never viewed as a rival to any of them, and they instead saw me as somebody who added value to their product.
In the early nineties I sold my business and moved into a new role as MD of Real Time Studio (which became one of the first digital agencies in the UK) but I kept in touch with many of my old clients and regarded them as friends.
I remembered having a lunch with six of them at the Oval Cricket club just before the recession kicked in and being surprised by them telling me they rarely met their rivals outside of pitches, using me as the common denominator. After our long afternoon of eating, drinking and watching cricket, they asked me to do it again!
It was 5 years before I did it again. There was no email in those days so inviting people to lunch meant phoning each person individually and writing to them with details and pulling everything together using old fashioned methods. Somehow we ended up with 30 of us in the private room at Quaglino's and amongst them were some of the most famous designers in the world including Alan Fletcher, Erik Spiekermann, and Marcelo Minale.
It was never meant to be anything more than a one-off gathering, but the people in the room that day insisted that I get them together again, so Podge became this annual gathering that bring people together in an agenda-free setting, where people can learn and transfer skills to peers within the industry. It's strange to think that on July 14th we will be celebrating the 23rd Podge lunch!
Since starting Podge back in 1994, what big changes have you seen in the topics and discussions?
In 2003 I started Digital Podge because by then there was a whole other world that never existed back in 1994. I found the marketers who worked in this area experienced a similar issue to my design peers all those years ago, where they rarely met their rivals. At awards evenings, they would all be on different tables with their own staff and clients but never on tables with their rivals. This was an exciting new venture for Podge, facilitating a constructive environment to communicate and learn from people who were spearheading a new digital revolution.
Knowing the crème de la crème of the agency world, how do you think the agency landscape is changing?
Agencies these days tend to be a lot more nimble and flexible, with specialist skills and knowledge. When I entered the industry, you looked to the likes of JWT and Saatchi, and in the design world, Conran, Fitch and Michael Peters, but the industry has since fractured with many of the disruptor agencies now challenging the traditional players.
I work as a mentor/advisor with several agencies and they all seem to achieve great things as they have such a specialist offer, working a lot smarter to make use of all the technology available to them.
Agencies like this, I believe, are well-positioned for growth as marketers look for more transparency, moving business out of full-service agencies into a number of agencies that each have specialist skills and experience.
With the central premise of Podge revolving around the importance of networking with industry peers, why do you feel it is beneficial to be well-connected?
I did a talk to the students at Sheffield Hallam recently about this subject. I can honestly say that all of the good things that have happened to me over my long career have started out as networking in some way or other. Mostly not deliberate networking, often accidental, but without doubt those that make the effort and put themselves out to support things and say YES will always come out in a much stronger place than others who focus solely on what they need to do to earn money.
The company who bought my agency back in the 80's only started to use us as a result of me playing football against their head of typography and becoming a mate. My first non-exec role when I retired from full time work was for a business whose directors had remembered a good deed I had done for them in the mid 1980's after a 5-a-side football tournament and they missed their last train home.
Networking is what you make it. Give time to things that you don't absolutely need to do for your job and the benefits will come back in all sorts of ways over time.
---
For more information about Podge events, get in touch and we can connect you with Phil Jones. Read more about Podge events at: www.podgeevents.com
Alternatively, if you're interested in connecting with brands at Ingenuity's chemistry sessions, get in touch with our events team on events@ingenuitylondon.com